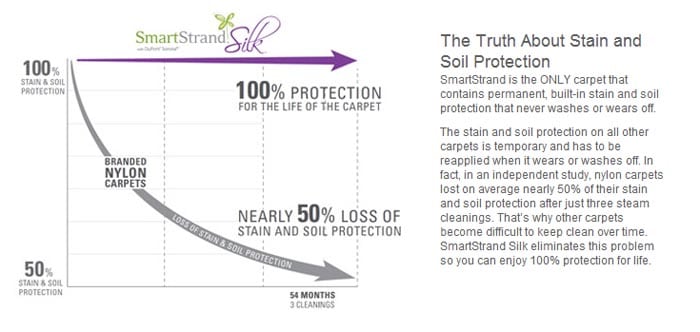 The Truth About Stain and Soil Protection
SmartStrand is the ONLY carpet that contains permanent, built-in stain and soil protection that never washes or wears off.
The stain and soil protection on all other carpets is temporary and has to be reapplied when it wears or washes off. In fact, in an independent study, nylon carpets lost on average nearly 50% of their stain and soil protection after just three steam cleanings. That's why other carpets become difficult to keep clean over time. SmartStrand Silk eliminates this problem so you can enjoy 100% protection for life.
Taniya Nayak on SmartStrand Silk
Mohawk & DuPont take softness very seriously and have taken it to a whole new level with SmartStrand Silk.
SmartStrand featured in Better Homes and Gardens May 2012
SmartStrand carpet is recognized in the "Innovation Issue" of Better Homes and Gardens for being soft and tough on stains.
Easy to clean with just water and mild detergent.
SmartStrand received the highest satisfaction ratings related to all consumer criteria of maintenance and durability.
Store Hours
Monday 9:00 AM - 8:00 PM
Tuesday 9:00 AM - 5:30 PM
Wednesday 9:00 AM - 5:30 PM
Thursday 9:00 AM - 5:30 PM
Friday 9:00 AM - 5:30 PM
Saturday 9:00 AM - 2:00 PM
Sunday CLOSED
Stop by Mid Wisconsin Flooring LLC to Experience:
- Large State of the Art Showroom
- Full Service store with Knowledgable Sales staff with Design Backgrounds
- Color & Design Consultations at no Additional Charge
- Low Prices with Competitive Financing Available