A Recycling Triumph
EverStrand's™ Beauty Also Keeps Our Planet Beautiful
Mohawk operates the world's largest integrated plastic bottle recycling facility, open since 1999 and located in Summerville, Georgia.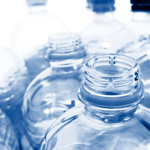 To envision the number of bottles we recycle annually, imagine millions of 20-oz. plastic soda bottles—each bottle about nine inches tall—stacked end to end until the height is approximately the same as 6,926 Empire State Buildings piled on top of each other.
That's a lot of bottles! When recycled, they can be converted into polyethylene terephthalate (PET) carpet fiber.
Our state-of-the-art process sorts the plastic bottles, chops up the plastic into little chips, vigorously cleans the chips and then melts them into polyester resin. The fiber is cut and shipped to Mohawk carpet manufacturing facilities to make carpet sold as part of the Mohawk EverStrand collection.
The face fiber of EverStrand carpet is made of 100 percent post–consumer content.
The best plastic bottles for making carpet have a "1" or "PET" symbol on the bottom. Every time you recycle these bottles, you're helping us make beautiful carpet AND a beautiful world.
Find additional information about EverStrand and other floors with recycled content at Mohawksustainability.com.
Store Hours
Monday 9:00 AM - 8:00 PM
Tuesday 9:00 AM - 5:30 PM
Wednesday 9:00 AM - 5:30 PM
Thursday 9:00 AM - 5:30 PM
Friday 9:00 AM - 5:30 PM
Saturday 9:00 AM - 2:00 PM
Sunday CLOSED
Stop by Mid Wisconsin Flooring LLC to Experience:
- Large State of the Art Showroom
- Full Service store with Knowledgable Sales staff with Design Backgrounds
- Color & Design Consultations at no Additional Charge
- Low Prices with Competitive Financing Available